Dufferin Grove Park Newsletter, Volume 10, Nr.5, May 2009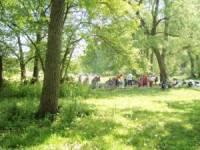 There are two different ways to have a campfire in a city park. One is to get a permit from the central permit office, for one of the bonfire sites in a large park in the ravines or on Toronto Island. The permit costs $72.61 and the insurance cost is tied to the number of people – for example, if there were 20 people coming, the insurance would cost $54.
Firewood is included in the price. A campfire fee of $126.61 means that it would work for larger groups or a corporate function, but not so much for a regular-size gathering of a group of families or friends on a tight budget.
With persistent encouragement from Dufferin Grove friends, the City has kept another approach available – campfires run as recreation programs. That means that people who want to cook over a campfire or sing around it, can have such a fire, with a $10 donation for upkeep of the campfire equipment: -- the trivet, frying pans, pots, and marshmallow/hot dog sticks. The reasoning is that such campfires add friendliness to the park, and increase park safety (more "eyes on the park"). Often food is shared beyond the group that planned the gathering. And a campfire is a beautiful sight. If that's the kind of campfire you would like, contact the park staff at 416 391-0913, or e-mail them at staff@dufferinpark.ca. You have to bring your own firewood, though.