CELOS: The
Ce

ntre for

Lo

cal Research into Public

S

pace

(Toronto)
Our Activities
The Centre for Local Research into Public Space (CELOS - pronounced "see-loss") is a non-profit organization with charitable status, which works in the area of public urban space, mainly parks. The primary focus of activity is in the City of Toronto. CELOS currently engages in three main types of activities:
Research Library
See also Research Mandate, Overview, and Publishing Guidelines
---
Practcial Research
CELOS practical research: what works well in a park?
| | | | |
| --- | --- | --- | --- |
| | | traditional playgrounds | |
---
Background Research
CELOS background research: what gets in the way?
Parks Forestry and Recreation (PFR) and Reviews
City of Toronto Parks, Forestry and Recreation management
City Programs
---
The city organizes itself around ongoing programs (within programs within programs...). Here we collect some notes about some specific programs that provide insight into how the city bureaucracy operates.
2010 Parks Forestry and Recreation User Fees
www.toronto.ca/involved/statutorynotices/archive2010/feb/sn_bu_030110_a.pdf
Toronto Parks, Forestry and Recreation community grants programs
www.toronto.ca/parks/grants/reference.htm#minor
---
Physical Assets
One way to look at city services is through the lens of physical infrastructure: it is the job of the city to provide and maintain good physical assets useful for Torontonians as we go about our lives.
We focus on parks infrastructure, since parks are a common meeting ground.
Of the collection of material here, the most extensive is for playgrounds. Playgrounds have undergone many transformations in the last several years, and we try to make sense of the reasons and effectiveness of these.
Parks:
Capital Projects:
See also:
Finance
2012 Parks, Forestry and Recreation budgets (operating and capital)
---
User Fee Policy
Proposed user fees policy: excerpts
User Fee Policy, September 9, 2011.
In interpreting the distinction between fees and taxes, the courts require that a fee charged for a service or activity must bear a relationship to the cost of providing the service or activity for which the fee is charged. Subsection 259(2) of CoTA provides that the costs included in a user fee may include costs incurred for administration, enforcement and the establishment, acquisition and replacement of capital assets.
Division Heads need to determine whether the benefits each service provides accrue directly to specific individuals or groups of individuals (a private service), and should therefore be paid for by users of the service; or whether the service benefits the entire society (a public service) and should be funded from the property tax revenues. Read More >>
Staffing
Toronto has more than 50,000 Full Time Equivalent staff positions (and a lot more people, since some are part-time). This army of people provide a varied set of services. Here we try to get some context and perspective on these staff, what they do, and what they cost.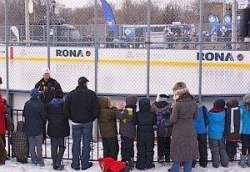 Partnerships
Community Consultation
Here is a recent picture showabout the unmaking' of Dufferin Grove Park.'
What is at issue in the bureaucracy of cities
"Of course it is important to the political and social sciences that the essence of totalitarian government, and perhaps the nature of every bureaucracy, is to make functionaries and mere cogs in the administrative machinery out of people, and thus to dehumanize them. And one can debate long and profitably on the rule of Nobody, which is what the political form known as bureau-cracy truly is."
Hannah Arendt, Eichmann in Jerusalem, Postscript.
The 2010 report by Dave Harvy and (Toronto Park People), funded by the Metcalf Foundation Fertile Ground for New Thinking Dave's concludes that it's time for Torontonians involved with parks to join their voices in bringing about park improvements.
You can find out about the Recreation Service Plan by going to this city webpage. You can find out how the consultations were set up by looking at this staff report.
Here is the City's list of "stakeholders" who were contacted to give their opinions about the Recreation Service Plan in May and June, 2011 (and the Parks Plan in September 2011). Here's the city's stakeholder list with contact links. If your "park friends" or advisory group is not on the list of groups who will be asked for their views, you can e-mail 311@toronto.ca and ask them to help you get on it.
Notes on the public consultation sessions:
Read more on Community Engagement
---
---
Facebook Links: